Women's & Ethnic Studies, BA
Women's & Ethnic Studies
Bachelor of Arts
Course Delivery
On Campus, Online, Hybrid
Total Credits
120 Credits
About the Program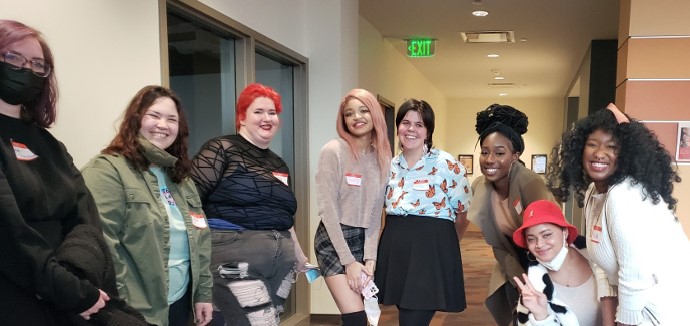 Women's & Ethnic Studies (WEST) emphasizes cultural responsiveness, critical and cross-disciplinary thinking, creative and innovative teaching, community engagement, and local and global awareness.
This program aims to create an equitable and sustainable world by analyzing structural inequality from historical and cultural perspectives and exploring practical strategies for change. WEST offers one-on-one mentoring, small classes, travel courses, and a range of scholarship and internship opportunities.
---
Program Focus of Study
The undergraduate WEST degree program centers on the histories, experiences, and cultural expressions of women and racial or ethnic groups not only in the United States but also across the world. The curriculum takes an intersectional approach, exploring the connections among race/ethnicity, class, gender, sexuality, and other hierarchies.
---
Program Requirements
Students must complete a minimum of 30 credit hours of WEST coursework, including at least 21 credit hours of upper-division WEST courses, with a grade of C or better in each course. These courses must include the following 10 credit hours of core requirements:
WEST 1010 Introduction to Social Justice Studies
WEST 3400 Contemporary Theory and Methods in WEST
WEST 4995 (Summit 1 credit course) AND one 4000-level WEST Capstone-flagged senior-seminar course from the list below: WEST 4025, 4040, 4170, 4280, 4380, 4470, 4570, 4480, 4530, 4700, 4838
Of the remaining 18 credit hours of electives, students must successfully complete one course each from the following three substantive areas: Transnational/Global Studies; Creative and Artistic Expression; Social Movements, Communities, and History, plus at least nine credit hours of upper-division WEST courses.
---
Admission Details
To learn more about admission requirements and the application process, please visit the UCCS Admissions page.
Additional resources for Admissions:
Top