Latino/a Studies Certificate
Latino/a Studies
Undergraduate Certificate
Course Delivery
On Campus, Online, Hybrid
About the Program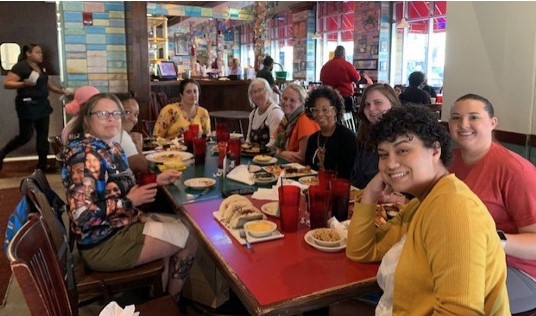 Latino/a Studies Certificate
The Latino/a Studies Certificate is a Women's & Ethnic Studies (WEST) certificate that explores the histories, cultures, and perspectives of marginalized groups, with a focus on the Latino/a community.
The certificate program examines transnational Latina/o identities and how cultural, ethnic, and social identities intersect with class, gender, ability, and sexual or religious orientation.
The certificate is attractive to employers and educational institutions in social work, graduate and professional schools, community action organizations, health care providers, government agencies, and social/legal services. It also provides networking and mentoring opportunities for students.
---
Focus of Study
The program coursework focuses on how cultural identity is approached, theorized, and defined. Program courses explore how concepts like ethnicity, race, culture, and social identity are intertwined with other categories such as gender, class, ability, sexual orientation, and religion.
A certificate in Latino/a Studies is highly sought after by various employers and educational institutions. These include social work, graduate and professional schools, non-profit and non-governmental organizations involved in community action, healthcare providers, government agencies, and legal/social services.
---
Program Requirements
Independent studies may not be used to earn this certificate
All courses be WEST courses or cross-listed with WEST courses
A minimum grade of 2.0 (C) is required for each course applied to the certificate
One course counted toward this certificate may count toward another WEST certificate
---
Program Coursework
After completing WEST 1010 Introduction to Social Justice Studies, students are required to complete 12 credit hours of the WEST or SPAN courses listed below, 9 of which must be upper division.
Students may take any of the following WEST courses:
WEST 3060 - Multi-Racial Identities
WEST 3230 - The Chicano Community
WEST 3360 - U.S. Latina/o Literature
WEST 3370 - Boricua Crossings
WEST 3380 - Caribbean Literature, History, and Theory
WEST 3490 - Youth Gangs
WEST 3520 - History of Latinos in the United States
WEST 3580 - Immigrant Histories
WEST 4025 - Readings in Multiethnic Literature (with the approval of the certificate coordinator)
WEST 4170 - The Empire Strikes Back: Postcolonial Literature, History, and Theory
Students may substitute 1 of the following courses for a WEST course:
SPAN 3000 - Spanish Grammar and Composition
SPAN 3010 - Advanced Spanish Conversation and Composition
Students may take up to 2 of the following courses:
SPAN 4210 - Hispanic Heritage of Colorado
SPAN 4420 - Hispanic/Latino US Literature
SPAN 4430 - Hispanic US Drama
SPAN 4440 - Hispanic, Chicano/a, and Mexican-American Literature
Additional WEST courses may be offered and counted toward the certificate. These courses must be approved in advance by the certificate coordinator or the WEST Program Director.
Students are also strongly encouraged to study in a setting where Spanish is spoken. Travel courses are offered, for example, by Women's and Ethnic Studies and the Departments of Languages & Cultures, Anthropology, and Geography at UCCS, and are also available through the Office of International Education at UC Boulder and Denver.
For additional details on program coursework, please visit the Academic Catalog.
---
Admission Details
General Admissions Details
To learn more about admission requirements and the application process, please visit the UCCS Admissions page.
Additional resources for Admissions:
---
Intent and Completion Applications for Program Admission
Once admitted to UCCS, students choosing to pursue a certificate must submit a Certificate Declaration Form.
After completing the program requirements, the student must submit the Certificate Completion Form with all supporting documents uploaded where indicated on the form. Students planning to pursue multiple certificates will need to submit separate declaration and completion forms for each certificate.
Top